The Missouri Zen Center is a non-profit corporation and a Zen center in the Soto tradition. We welcome anyone at all to join us for quiet sitting meditation in the Awakened Way.
On This Page: [Membership Information] [Board of Directors] [Some History] [About Rosan]
---
Becoming a Member of Missouri Zen Center
[Top of Page]

We encourage you to support the Zen Center by becoming a member with a $25 per month donation. Membership donations make it possible for us to provide and maintain the Missouri Zen Center building and grounds and community of practitioners through a daily meditation schedule, library of over 1000 Buddhist books and videos, classes on Buddhism taught by our Abbot Rev. Rosan Yoshida, monthly retreats, a weekly Dharma Study Group, Tuesday Night Tea and Discussion fellowship, Family fellowship every Saturday morning at the 10:00 a.m. Family Zazen, movie nights, and gardening work, thereby creating an excellent environment for cultivating our minds in the Awakened Way. By becoming a member you will also be eligible for a free subscription to the the Zen Center's Sangha Life newsletter mailed every other month to your home. Members may borrow books and videos from the Zen Center library. You may receive your free subscription to the newsletter by sending a note to us with your name and mailing address along with your membership payment. If you prefer to get the newsletter in electronic form, you may download current and back issues from our website. You may make your membership payment while at the Zen Center or mail it to us.

Please make your check out to: Missouri Zen Center

The Missouri Zen Center is a nonprofit organization.
Donations may be tax-deductible; consult a tax advisor.
---
Board of Directors
[Top of Page]

A board of directors, chosen by the members, governs the day-to-day activities of the center. Board members are elected each year for three year terms. They select board members to serve as officers: president, vice-president, treasurer, secretary, and public relations. They serve along with Rosan who is a permanent member of the board as Executive Director.
---
Some History
[Top of Page]

Be sure to check out the history photo wall in the Zen Center library—it includes lots of familiar faces and the famous "ZEN" license plate!

The Missouri Zen Center (MZC) was founded in 1980 by Dr. Rosan Yoshida to foster the study and practice of the teachings of Zen Buddhism. It has provided the opportunity for Zen practice in the St. Louis area continuously since that time. The MZC sangha (community) has grown steadily over the years. Today the Zen Center offers daily zazen practice, classes for both beginners and advanced students, periodic sesshin retreats, and a library of books on Zen and Buddhism.

Some reminiscences by Gento
The story behind the ZEN license plate as I recall it was that Randy (Dairen) Parsons saw the car driving by and was able to obtain Bob Eilers' address and phone number through the Department of Motor Vehicles, and thereby found the Zen Center.

Actually, the first ordination group (formed about late 1982 or early 1983) consisted of EIGHT people: Bob was the most senior, having started the group with Yoshida sensei. He was given the dharma name of Jakuen. The fellow you recognize from [the photo of] the Festival is probably Patrick (whose surname and dharma name totally escape me at the moment. He usually helps cook noodles every year. Also present was Mike (Kodo) Ganio, who was very artistic and involved heavily with theater and moved to New York in order to pursue his interest in theater. His father still sends contributions to the Zen Center on a regular basis. There was another Mike, Mike Currier, who was a graduate student at Mizzou and helped start the Columbia (MO) Zenter Center if I am not mistaken. Unfortunately I do not recall his dharma name either. He would be the one with the long hair. Rich Reichelt was one of the more interesting folks around at that time, and he later received a masters degree in Blacksmithing. He also authored a very nice book on the living blacksmiths of Illinois and Missouri. The woman you see was named Susan (I think), and I don't recall anything more about her as I really didin't know her. I seem to remember that she was a friend of Rick and I recall that she moved to Hawaii shortly after the ceremony. I was the eighth candidate, and the 'youngest' and allowed to participate even though I had less the the two years of experience Katagiri Roshi preferred, owing to Yoshida's endorsement. The ceremony took place in the clubhouse at Bob's apartment complex, and was preceded the day before with a half day sesshin with Katagiri presiding. We had a festive luncheon (lubricated by excellent o-sake drunk from traditional wooden cups) afterward at Bob's apartment, and I'm sure that Hatsuko provided much of the food.
I realize that is only seven names, and I have searched my memory for the name or a recollection of a face or something as to the identity of the other individual, but cannot seem to remember anything about them. I am still sure that there were 8 people though. Maybe Yoshida-san can remember who the other person was.
An interesting character I remember from those early days was Lawrence. He had returned from France where he had studied for a time with Deshimaru, the founder of the European Zen Center in Paris. Deshimaru was a student of Uchiyama Roshi as I recall. Lawrence had first gone to Europe, he said, in order to study bull fighting, but got sidetracked.
Katigiri returned in a couple of years or so for a second lay ordination ceremony. This one took place in the home of a fellow in Webster Groves who provided his home often for sesshins. I can't remember his name at the moment, but I'll try to find it somewhere. The candidates for that ceremony were Randy Parsons (Dairen), Ted Allen (Tesudo), and Joe Janowski (Josetsu). Randy has since moved to the southwest, I think New Mexico. Joe left to go live with Nonin in Omaha, stayed a few days and dropped out of sight.*. He was very active during his tenure at MZC. Randy served as president for at least one year maybe longer, primarily during the year of my leave of absence, at which time the twins were quite tiny and demanding of our time. Tetsudo of course, is the creator of the fruit slush phenomenon that fueled the financial foundation of the MZC. He persuaded the skeptics among us as to the financial possibilities of the project, and several of us were convinced it was going to be an expensive failure as a fund raiser. (Hard to imagine now.)
[* Joe Janowski still stays in touch with me, the web guy. After living at Tassajara Monastery (including doing tangaryo or 5 days' sitting 18 hours per day), Joe lived at the Nebraska Zen Center. Eventually, he went back to his Catholic roots and still practices formless meditation called "centering prayer."]
Thoughts on Gento (by Kalen)
When I first started coming to the zen center Gento was the main person there. He was the only one wearing a sitting robe and because he was slightly bald, I thought at first he might be a monk. Gento would come EVERY Sunday and give wonderful dharma talks. He is very well read, intelligent and insightful. His talks were a treasure that I still cherish.
Apparently Gento had been sitting about 18 years with Rosan when I came on the scene. He talked about how most of the earlier days, it would be just him and Rosan sitting. He talked about ice storms where he was the only one to drive to the zen center. I truly attribute the fact that we even have a zen center today is because of his commitment to the practice. It would have been easy to give up and the center would have stopped existing.
Gento worked at his job about 70-80 hours a week, was married and had 3 children. His time at the zen center was limited to Sundays and special events - he never missed a day of the Japanese Festival during my time with him. I was often disappointed that he was not there more during the week but understood his limits. The very fact that he could show up EVERY Sunday and give a profound dharma talk was a wonderful gift.
I think there was a period when his twins were born that he stopped coming to the zen center. But then Dr. Yoshida took the job in Tokyo and came to him and asked him to come back to the zen center and 'watch over it' in his absence.
Gento was soft, deep and observant. Again, I want to say I would probably not be able to sit as I do today if his commitment hadn't made that possible. Thank you.
Gento moved because of job relocation a couple of years ago (1997?). He is in South Carolina now and occassionally gets back and gives a dharma talk. He has been trying to get back in the area and hopefully he will in the next year or two.
---
Rosan Osamu Yoshida
[Top of Page]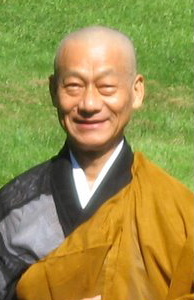 Dr. Yoshida, founder of the Missouri Zen Center, first became involved with Zen in a Zen meditation group, the Buddhist Youth Association, under Koryu Osaka Roshi at Tokyo University in 1970.
In 1971, while attending Columbia University (M.phil. 1974, Ph.D. 1977), he joined the Zen Studies Society in New York, participating in sesshins led by Eido Shimano Roshi.
In 1972, he joined the New York Zen Center, practicing under Kando Nakajima Roshi.
In 1978, he joined the Nebraska Zen Center, participating in sesshins led by Dainin Katagiri Roshi.
He founded the Missouri Zen Center in 1979 (which became a Non-profit Organization in 1980).
In 1982, he was ordained as Rosan Daido by Dainin Katagiri Roshi at the Minnesota Zen Meditation Center and registered at the Soto Headquarters.
He received formal Dharma transmission from Katagiri Roshi in 1989.
in 1991, he trained for 6 months at Zuioji Monastery under Ikko and Tsugen Narasaki Roshis and Koten Hayashi Roshis. He finished Dharma combat and received Dharma transmission from Tsugen Narasaki Roshi at his temple, Keijuji.
In 1994, he completed Zuise at Eiheji and Sojiji with registration at the Soto School Headquarters as an ordained priest and teacher qualified to transmit the Dharma overseas.
Besides leading the Zen Center, Dr. Yoshida was a professor of comparative religion on the faculty of Toyo University in Tokyo from 1992 to 2009.
He is also an active participant of the Parliament of World Religions and its efforts to promote a new Universal Global Ethic since the second Parliament in 1993, when it issued the Declaration toward the Global Ethic. He also participates in the Interfaith Gathering for Peace in St. Louis and is involved with drafting the Common Appeal for Peace.
A scholar in ancient Eastern languages, Middleast languages and cultures, he has translated many important texts (Dogen's Universal Recommendation for Right Zazen, Sentsan's Faith Mind Maxim, etc.) and written many books (Awakened Way, Globa Ethic – For the Future of Humankind, etc.) and articles (Paradigm Shift, Ultimate Religion, etc.).
He has been active in carrying the message regarding Buddhism, the global problematique, promotion of the global ethic, Zen and Japanese culture to the community in general in a wide variety of forums including unviersities, radio programs, community organizations, churches, temples, synagogues, etc.
Following his participation in the Parliament of the World's Religions in South Africa, Rosan spent some time in Germany to pursue further the Global Ethic at the Global Ethic Foundation directed by Dr. Hans Küng, the original exponent and the drafter of the Declaration toward the Global Ethic.
Together with Hiroshi Kubota, he has translated Hans Kúng's work, Spurensuche, Die Weltreligionen auf dem Weg (Paths of World's Religions—In pursuit of peace). (Translation of Hans Kueng, ) The World Sacred Books Publishing Association, Tokyo: June 30, 2001
He is active in the area of Zen Center's three pillars: Awakened Way, Global Ethic and Voluntary Simplicity, participating in the Buddhist Council of Greater St. Louis, working as a kokusai-fukyoshi (international propagator) of Soto School of Zen, participating in the Global System Ethic Association, running websites, listservs in these areas ( http://global-ethics.org, globalsystemethic@yahoogroups.com, etc.).