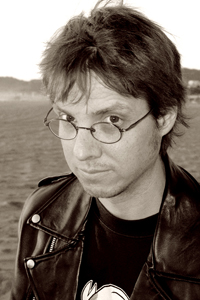 Brad Warner, a zen monk, musician, author, and teacher at the Great Sky Sesshin at Hokyoji will be giving a couple of talks here in St. Louis in February.
Tuesday, February 22, doors open 6:30 -- 9:30pm
Seki's Japanese Restaurant, 6336 Delmar Blvd., University City (in the Loop)
7:00pm, Talk, Q&A
Book signing to follow. Refreshments available for purchase.
Saturday, February 26
Missouri Zen Center, 220 Spring Ave., Webster Groves (Old Orchard area)
7:00 -- 7:20pm, Zazen (meditation)
7:20pm, Talk, Q&A
Both talks are free and open to the public; speaker donations (dana) gratefully accepted.
Details:
Parking is limited in both venues:
Seki's: a large lot nearby is behind Ginger Bistro (formerly Blockbuster Video), at 6665 Delmar Blvd.
Missouri Zen Center: please avoid parking on the street in front of the center. There is a public lot behind Stratton's Cafe at 8103 Big Bend Blvd. Click here for more info.
On February 22, books will be available for purchase courtesy of Subterranean Books.
On February 26, instruction in zazen (meditation), geared to beginners, will be available at the Missouri Zen Center at 6:30pm. Space is limited; please contact the center by 5:00pm on Thursday, February 24, to reserve a spot (314.961.6138; info@missourizencenter.org), and please arrive at least 10-minutes early. You may also register for any of the regularly scheduled "Beginners' Night" introductions, Monday evenings at 6:30pm: (See Events/Schedule page).
Brad's St. Louis visits are part of a midwest tour he's doing to promote his newest book, Sex, Sin, and Zen: A Buddhist Exploration of Sex from Celibacy to Polyamory and Everything in Between. He also wrote the books Hardcore Zen, Sit Down And Shut Up, and Zen Wrapped in Karma Dipped in Chocolate.
Though Brad's talks always focus on the Buddhist dharma, the actual topics covered can range from the words of the ancient masters to the finer points of slam dancing, from insights to be found in the depths of marathon meditation sessions to whether Godzilla could beat up Yog the Space Monster. Brad prefers to respond to an audience rather than lecture them. The talks themselves tend to be more like brief introductions to free-wheeling and stimulating Q&A sessions.
His blog is at: http://hardcorezen.blogspot.com/.